Disclaimer: This post is not intended to substitute as medical advice. If you believe you or your loved one may have the flu, please call your doctor to discuss treatment options.
Good. Ever-loving. Grief.
I have seen so many people share how they've been affected by the flu this past season, either because they are infected or taking care of someone (usually a child) who has it. Many of us have been dealing with it, from washing sheets and towels to disinfecting living spaces, to handling all the things that come with being sick. (Let's not forget the car seat some of us had to power wash after a kiddo barfed in it.)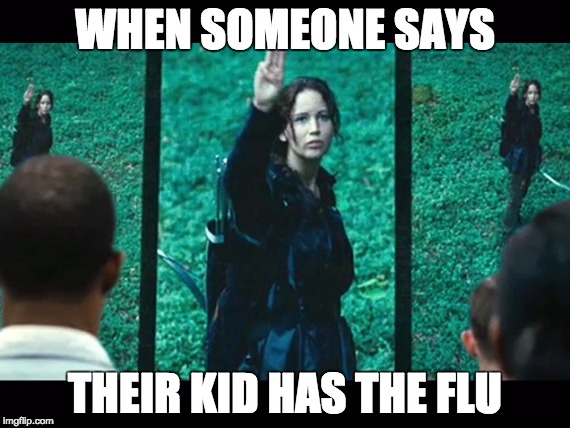 Both of my kids just went through it. Curly Smalls had a fever one Friday night, went to bed early, and was her normal, sassy self the next day. Tall Smalls developed a fever two days later and crawled into bed with us in the middle of the night. She was so hot, I had to pull the covers off of both of us as I monitored her for the remainder of the night. (Can I mention here that I'd had little sleep at this point from being up all night at a birth?) She was in no shape to go to school the next day, with the fever still hovering around 100°F and her face looking like she'd been at a rave for three days.
We lounged on the couch all day watching baking shows and My Little Pony; I took her temp every three hours and made her soup. Around lunch, she inhaled four bowls of soup and started drinking more water, so it seemed like we'd seen the worst of it, even if the fever persisted. At the pediatrician's office the next day, the diagnosis was Influenza A. And because she seemed to be recovering well, nothing was prescribed other than fluids and rest.
In the meantime, I've screeched at everyone to wash their hands WITH SOAP at least 250 times a day, made sure everyone is drinking water and eating oranges, slipped elderberry and echinacea into most every beverage, and made all the garlic ginger-boosted soups I could think of.
Others have experienced a pretty rough go of the flu in their household. Like, "I may need to hire someone to exorcise my home and power wash everything" bad. If you have not experienced the flu, here is some info to have handy (from the CDC). **Side note: this is NOT a "please vaccinate your kids" post. You do you, I say!**
There are four types of influenza viruses: A, B, C, and D. Human influenza A and B viruses cause seasonal epidemics of disease almost every winter in the United States. Influenza type C infections generally cause a mild respiratory illness. Influenza D viruses primarily affect cattle and are not known to infect or cause illness in people. Current flu vaccines tend to work better against influenza B and influenza A(H1N1) viruses and offer lower protection against influenza A(H3N2) viruses. While vaccines have been updated to assist in tempering the outbreak of influenza A(H3N2), this strain is hitting hard this season.
What are the most common flu symptoms?

People who have the flu often feel some or all of these symptoms:
Fever* or feeling feverish/experiencing chills

Cough

Sore throat

Runny or stuffy nose

Muscle or body aches

Headache

Fatigue (tiredness)

Some people may have vomiting and diarrhea, though this is more common in children than adults.
*It's important to note that not everyone with flu will have a fever.
What are the emergency warning signs of flu illness?
In children:
Fast breathing or trouble breathing

Bluish skin color

Not drinking enough fluids

Not waking up or not interacting

Being so irritable that the child does not want to be held

Flu-like symptoms improve but then return with fever and worse cough

Fever with a rash
In adults:
Difficulty breathing or shortness of breath

Pain or pressure in the chest or abdomen

Sudden dizziness

Confusion

Severe or persistent vomiting

Flu-like symptoms that improve but then return with fever and worse cough
In addition to the signs above, get medical help right away for any
infant
who has any of these signs:
Unable to eat

Trouble breathing

No tears when crying

Significantly fewer wet diapers than normal
So, what can you do to stop the spread of germs?
Try to avoid close contact with sick people.

While sick, limit contact with others as much as possible to keep from infecting them.

If you are sick with flu-like illness, the CDC recommends that you stay home for at least 24 hours after your fever is gone except to get medical care or for other necessities. Your fever should be gone for 24 hours without the use of a fever-reducing medicine.

Cover your nose and mouth with a tissue when you cough or sneeze. Throw the tissue in the trash after you use it.

Wash your hands

often with soap and water. If soap and water are not available, use an

alcohol-based hand rub

.

Avoid touching your eyes, nose, and mouth. Germs spread this way.

Clean and disinfect surfaces and objects that may be contaminated with germs containing the flu virus.

People at high risk of serious flu complications

include young children,

pregnant women

, people with chronic health conditions like asthma, diabetes or heart and lung disease and

people 65 years and older

.

Vaccination is also important for

health care workers

, and those who live with or care for high-risk people to keep from spreading flu to them.

Children younger than six months are at high risk of serious flu illness, but are too young to be vaccinated. Infants' caregivers should be vaccinated instead.
You can also find many ways to help boost your immune system during the icky season: elderberry syrup, Vitamin C, fortified soups, and herbal teas are good ways to combat seasonal germs. Running cool mist humidifiers can also be helpful, as well as Epsom salt baths.
What soup did I make?
Faux Minestrone Yuck Buster Soup
2018-01-10 19:27:38
Serves 4
Nutrition Facts
Amount Per Serving
* Percent Daily Values are based on a 2,000 calorie diet. Your Daily Values may be higher or lower depending on your calorie needs.
Ingredients
4 cloves of garlic, whole
2 large carrots, peeled and thinly chopped
3 stalks celery, coarsely chopped
1 small to medium onion, chopped
olive oil or coconut oil
red pepper flakes
6 cups of liquid - I used 3c of chicken bone broth and 3c of water
1 can of peeled tomatoes (whole or diced), undrained
parmesan rind, if you have it
2 handfuls of kale or spinach fresh or frozen
rosemary, dried
thyme, dried
1 package of gnocchi
Instructions
Heat 2-3 tbls of oil in a soup pot or Dutch oven over medium-high heat. Add the celery, carrots and onion. Season with salt and pepper. Cook, stirring often, until the vegetables soften, about 5 minutes. Add the red pepper flakes and cook for another minute.
Add the liquid. Add the tomatoes, herbs, and parmesan rind, if using. Season with a little more salt and pepper. Bring the mixture to a simmer, then add the greens and reduce the heat to medium and cook until the vegetables are very tender, about 15 minutes.
You can use an immersion blender or stand blender to, well, blend.
Return soup to pot, heat to simmer.
Add in gnocchi and cook for 3 to 5 minutes.
Serve with additional parmesan if desired.
Adapted from Food Network
Adapted from Food Network
Alamo City Moms Blog https://www.citymomsblog.com/
And about that bath?
Half a cup of Epsom salts, two spoons of baking soda, and any kid-safe essential oils you want to use in the bath. Stay in for at least 15 minutes.
And now, I'm off to take a preventative bath while sipping on a whiskey-ginger cocktail. Did you know whiskey cures everything? No? Hey, it's worth a shot!